Forest Facial and More!
March 17, 2016
PAMPANGA, Philippines – "I feel rejuvenated!" – said Bernd-Markus Liss, Principal Advisor on Climate Change for GIZ in the Philippines.
This was after he went through the forest spa experience organized by NTFP-EP at the Asia Pacific Forestry Week (APFW) in Clark, Pampanga, Philippines from Feb 22-26, 2016.
Shiny Rehel of Keystone Foundation, India placed a turmeric-chick-pea-milk based cream on to Bernd's face. Similar traditional formulas have been used in India for skin care treatment for centuries. Benefits include skin cleansing and blemish removal. Turmeric combined with other ingredients can also reduce facial lines.
The Forest Spa was one of the introductory and promotional events for the mini-seminar on Forests and Beauty held at the APFW.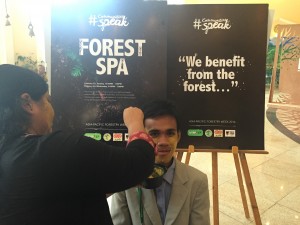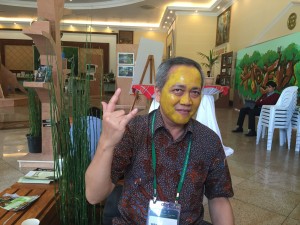 NTFP-EP, with the support of the Food and Agriculture Organization of the UN (FAO), is conducting case studies on forest resources that are used for beauty products in the cosmetics, personal care and perfume industries. Wild turmeric from India or Curcuma aromatica Salisb. is just one of the 12 case studies being conducted.
During the mini seminar at APFW, Nuning Barwa of Martha Tilaar Group, a leading cosmetics company in Indonesia, presented on the growing trend of the global beauty industry sharing that the global beauty industry was USD 465 billion in 2014, with premium beauty, including natural beauty products, expected to grow to 2019 to more than 20% of the total market!
Ms. Barwa then shared about the effectiveness of the "putih langsat" or Lansium domesticum line of Martha Tilaar's Sari Ayuh brand to make skin brighter and softer. Hla Doi of POINT, Myanmar then also presented on other facial skin product called "thanaka" Limonia acidissima L. "Thanaka" is said to be used by over 90% of all Myanmar people as it has been known to moisturize and cool the skin while protecting it from the sun. Unfortunately, lack of tenurial security and large investment requirements limit expansion of community producers in this field. Dr Truong from Vietnam presented on Sterculia foetida and the use of this tree gum for beauty products. This forest product can be used to heal facial scars, for general skin care, pigment bleaching and acne treatment. Sustainability issues and fluctuating prices are existing challenges. Finally, Shiney Rehel presented on soapberry or Sapindus emarginatus Vahl as an excellent hair cleanser and skin treatment with anti bacterial and antifungal properties.
To end the seminar, were presentations on essential oils. The first was or Sandalwood or Santalum spp. which can be extracted by steam distillation to be used for the perfume industry. Mr. Padolina from Southern Pacific Community (SPC) presented it as the "Golden Tree of the Pacific". Previous, unregulated sandalwood trade almost wiped out the tree completely in the 1800s. Conservation measures are needed to make sure it is not over exploited. Ms. Charisse Reyes from the University of the Philippines (UP) shared about Manila elemi or Canarium luzonicum which produces essential oil used by large name brands as Chanel. Unfortunately the Philippines is losing as rights to such formulas and processes are being granted to foreign companies.
We learned that forests don't only provide us food, furniture and building materials, but can also make us beautiful and help us stay young! The beauty industry is one that can further expand community forestry in Asia and the Pacific with needed political support, conservation, measures and technology and extension services. Let's work together to save forests and stay beautiful while doing it! 🙂
RETURN TO LISTING