Here are some NTFP-related materials that we recommend. In some cases, we are able provide free print copies to our partners and major contacts through the generosity of many organisations.
FEATURED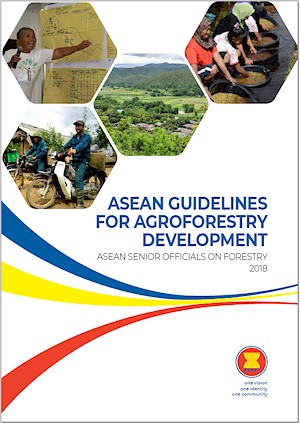 Asean guidelines for agroforestry development (ICRAF)
The ASEAN Guidelines for Agroforestry Development is an important milestone towards increasing the prosperity, connectivity, resilience and security of the peoples of ASEAN Member States. Taken as a whole, the Guidelines form a framework in which development can take place. The Guidelines are an outcome of the Vision and Strategic Plan for ASEAN Cooperation in Food, Agriculture and Forestry 2016–2025 that was endorsed by the ASEAN Ministers of Agriculture and Forestry in 2016. That endorsement led to a decision to develop guidelines for the development of agroforestry in ASEAN Member States, through an extensive consultation process across the region with stakeholders not only from agriculture and forestry but also other sectors, such as climate change, energy and water. To download the report, go here.
---
Delia C. Catacutan, Robert Finlayson, Anja Gassner, Aulia Perdana, Betha Lusiana, Beria Leimona, Elisabeth Simelton, Ingrid Oborn, Gamma Galudra, James M Roshetko, Philippe Vaast, Rachmat Mulia, Rodel D. Lasco, Sonya Dewi, Simone Borelli and Yurdi Yasmi
The World Agroforestry Centre (ICRAF) is a centre of scientific excellence that harnesses the benefits of trees for people and the environment. Leveraging the world's largest repository of agroforestry science and information, we develop knowledge practices, from farmers' fields to the global sphere, to ensure food security and environmental sustainability...read more