Pelawans lead almaciga rainforestation in Brooke's Point, Palawan
November 4, 2020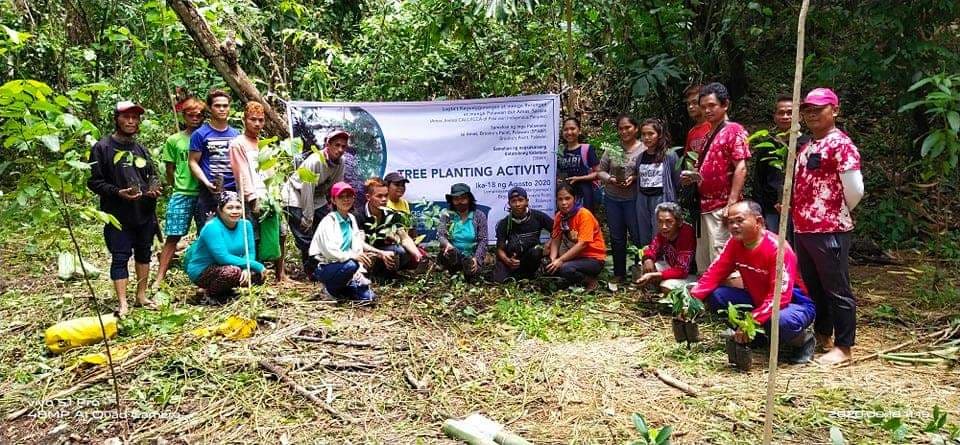 PALAWAN, Philippines—Pelawan youth and community leaders mobilized their community in planting more than 5,000 native trees last August 18 in Barangay Amas, Brooke's Point, Palawan, Philippines.
Twelve youth leaders from the Samahan ng mga Nagkakaisang Katutubong Kabataan (SNAKK) and five members of the Samahan ng mga Palawano sa Amas Brooke's Point Palawan (SPABP) gathered 25 individuals from the local government and the community to join the tree planting activity. These included students and teachers from local schools, members of the Amas Barangay Council, representatives from the Municipal Environment and Natural Resources Office (MENRO), from the National Commission on Indigenous Peoples (NCIP), and neighboring Pelawans from KAD10, the network of 10 upland barangays in Brooke's Point.
A total of 711 trees were planted in the two communal sites during the activity, completing the total of 3,000+ almaciga saplings/seedlings and 2,000+ native tree seedlings. The 4,199+ trees were planted by Pelawan families in their family-based rainforestation sites.
"While tree planting is a common practice of the Brooke's Point Local Government, the Pala'wans have planned and implemented these activities with long term impacts in mind. SPABP sees the socio-economic and ecological benefits derived from the almaciga rainforest," said NTFP-EP Philippines' Norli Colili.
The Pelawans in Amas consider almaciga—locally known as begtik—a prized possession passed down to them by their ancestors. Resin from the almaciga tree has been an income source for Pelawans for decades. From merely selling almaciga resin to traders back then, SPABP recently has organized and are now the holders of their almaciga harvesting permit and manage their almaciga resin enterprise on their own. They believe that the sustainability of their enterprise is rooted in their own sustainable almaciga resin harvesting protocols and is informed by their traditional knowledge and practices on begtik.
The Pelawans of Amas are also committed to the continued planting of almaciga and other native trees. This ensures the health of their almaciga rainforest within their ancestral domain, to sustain not just present, but future needs. The continued invlovement of Pelawans: elders, SPABP leaders, women, and youth alike, is a way to ensure that they can pass on a healthy almaciga rainforest to the next generation. In the process, the Pelawans, led by SPABP and SNAKK, continue to involve the broader community in Amas, Brooke's Point, to strengthen their efforts.
Along with the continued growth of each family's wild food gardens and swidden farm plots, the establishment, upkeep, and care for these communal rainforestation sites drives SPABP and SNAKK'S community-based conservation and resource management program, in partnership with the NTFP-EP, and supported by the Swedish Society for Nature Conservation (SSNC).
Article by Gaby Alegre, NTFP-EP Philippines.
RETURN TO LISTING