This week, NTFP-EP will be hosting two events at the Asia Pacific Climate Week 2023 (APCW) in Johor Bahru, Malaysia.
The APCW 2023 is a regional event hosted by the United Nations Framework Convention for Climate Change (UNFCCC) with aims to provide a platform for policymakers, practitioners, businesses, and civil society to exchange on climate solutions, barriers to overcome, and opportunities realized in Southeast Asia.
This year, in collaboration with our partners, NTFP-EP is co-organizing a side event and an action hub where you may participate in person or online.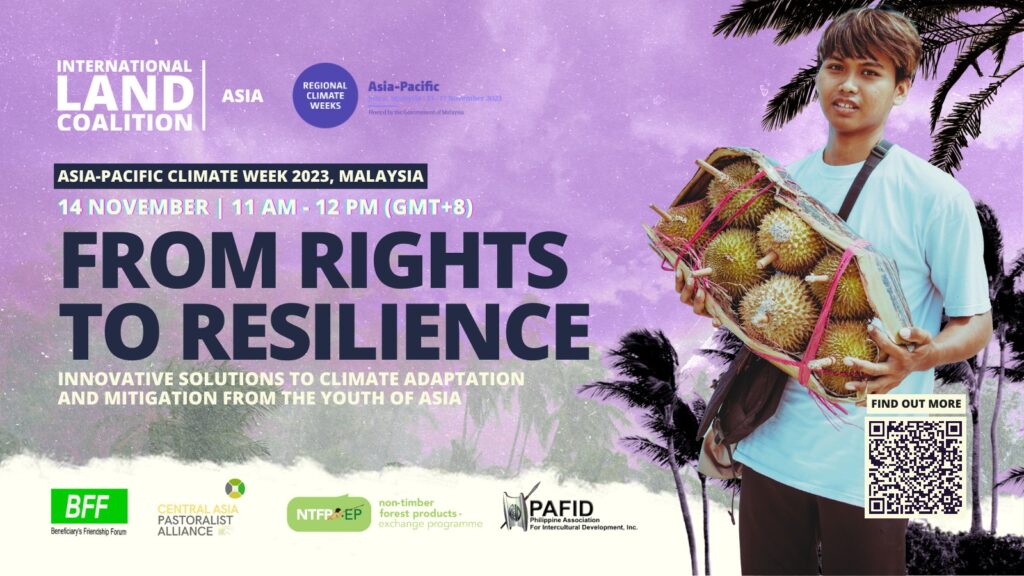 FROM RIGHTS TO RESILIENCE: INNOVATIVE SOLUTIONS TO CLIMATE ADAPTATION AND MITIGATION FROM THE YOUTH OF ASIA
14 November 2023
11:00 AM – 12:00 PM Malaysia time (GMT +8)
Location: Tanjung Puteri 305
This side event at the Asia Climate Week aims to shed light on the relationship between land rights and climate resilience from young leaders directly representing or working closely with indigenous peoples and local communities, pastoralists, families, and peasant farmers. People-centered land governance offers the systemic transformation necessary to address the climate and biodiversity crises, and young people are already part of the solution.
Furthermore, the initiative aims to identify challenges and opportunities in advancing people-centered land governance for transformative adaptation and mitigation, underscoring the additional benefits of aligning land governance with climate action initiatives.
Click here to learn more about the event.
BENEATH THE CANOPY: VOICES FROM THE YOUTH ENGAGEMENT AND EMPOWERMENT HIVE IN ASIA FOR A GENDER-RESPONSIVE CLIMATE HOPE
17 November 2023
12:00 PM – 12:30 PM Malaysia Time (GMT+8)
Location: Action Hub
This Indigenous youth-led action hub is a platform for Indigenous youth from across Southeast Asia to share their unique perspectives and key recommendations for inclusive and participatory climate change adaptation and landscape governance that resonates with the needs and contexts of Southeast Asian Indigenous youth and communities.
The action hub will also highlight challenges and opportunities from the perspective of youth, especially young women and girls, in securing their lands and /territories, organizing gender-responsive youth initiatives, and managing their natural resources using their Indigenous knowledge systems and practices. 
Click here to join online via Microsoft Teams.